Bajaeolis bertschi
---
Bajaeolis bertschi (Gosliner & Behrens, 1986)
The first time ever I saw this slug, I knew it was new! In addition to its type locality of Bahia de los Angeles, Baja California, it has also been reported from Islas Perlas, Bahia de Panama. Careful searching of it Eudendrium hydroid prey should yield additional record from intermediate localities.
The fouydroyant coloration of Bajaeolis bertschi includes an overall reddish tint covered with numerous opaque white specks. The tip of each ceras is white. The rhinophores are yellow-brown with a dark purple splotch near the tips. The oral tentacles are light purple, with darker blotches at the base of midway along their length. Total body length is about an inch (20 mm).
The incredibly beautiful species is often found after swimming underwater at a compass direction ENE for half an hour at Cuevitas. This is one of my secret nudibranch spots, to which I have taken WebMaster MMiller. Look, but don't collect!
I am truly grateful to Terry Gosliner for his naming this species for me. When you look at the scientific name of species, you must also look at who named it. The "namee" and "namer" are equally important.
---
Text courtesy of Dr. Hans Bertsch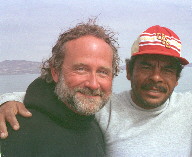 Dr. Hans Bertsch

Assoc. Prof.
Dept. of Math and Natural Sciences
National University
192 Imperial Beach Blvd. #A
Imperial Beach, CA 91932
FAX (619) 423-9118
Send Hans E-Mail at hansmarvida@cox.net

---
© The Slug Site, Michael D. Miller 1998. All Rights Reserved.






---